ABOUT US
Meet a variety of gift wrapping supplies and packaging products.
ABOUT US
DesignWrap Co.
The company produces gift wrapping supplies
that add your love to gifts.
OUR VISION
Trend-defining Brand
in the gift packaging: "Given"

In line with the trend of the times, gift-packaging items have been also developing in a fashionable and sophisticated way. Design Lab Co., Ltd. has been consistently developing and producing differentiated products by launching new initiatives, characterized by our brand "Given". We will keep on developing creative gift-packaging items ,and continue to lead other enterprises by setting the trend of gift packaging.
Gift Wrap&Pack in Trend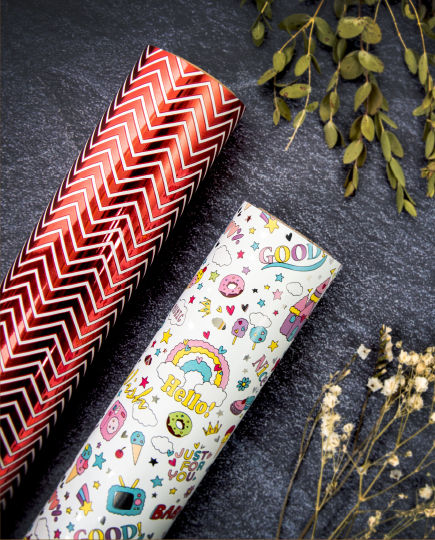 Good quality
reasonable price
DesignWrap Co. always thinks 'the mind of the gift giver' and 'the joy of the recipient'. We are producing high quality products for our customers by focusing everything from raw materials to manufacture/process/package.
Better fabrics, more vivid colors, more detailed finishes
As our gift-packaging items are manufactured directly in our own factory, you could be assured of goods of high quality at reasonable prices.
※ We can meet your individual needs by customizing your ordered goods such as goods with your corporate logo or any specific design wanted by you.
Eco-friendly products, with an aim to
keep the sustainable environment

Environmental contamination caused by plastic wastes is a serious social issue.
Design Lab Co., Ltd. is making efforts to reduce plastic wastes
by developing paper items and applying recyclable materials.
Eco-Friendly Products
HISTORY
Changshindong Stationery Alley

1986

Establishment of Jinyoung Packaging Co., Ltd.

2011

Relocated to new factory

2015

Established Design Lab

2016

Moved to factory

2016

Acquired ISO 9001/14001 certification

2017

Obtained Venture business recognition certifiedby the government of the Republic of Korea
Established a company-affiliated design research center

certified

2018

Participated in the ISOT exhibition in Japan
Export contracts for five Japanese companies
Vietnam Corporate Export Agreement
Participated in the China Paper World Exhibition
Chinese stationery company export contract
Moved to new factory
completed the registration of the factory

2019

Exported to Vietnam
Export to China
Honored with the Stationery Day Citation by the Small and Medium Business Promotion Association Chairman
Check Smart Factory Level(Level1)
Obtained Venture business recognition certified by the government of the Republic of Korea(Renewal)
CONTACT
Add117, Jeamgoju-ro, Paltan-myeon, Hwaseong-si, Gyeonggi-do, Republic of Korea
Tel+82-31-354-6160
Fax+82-31-354-6161
Homewww.designwrap.co.kr